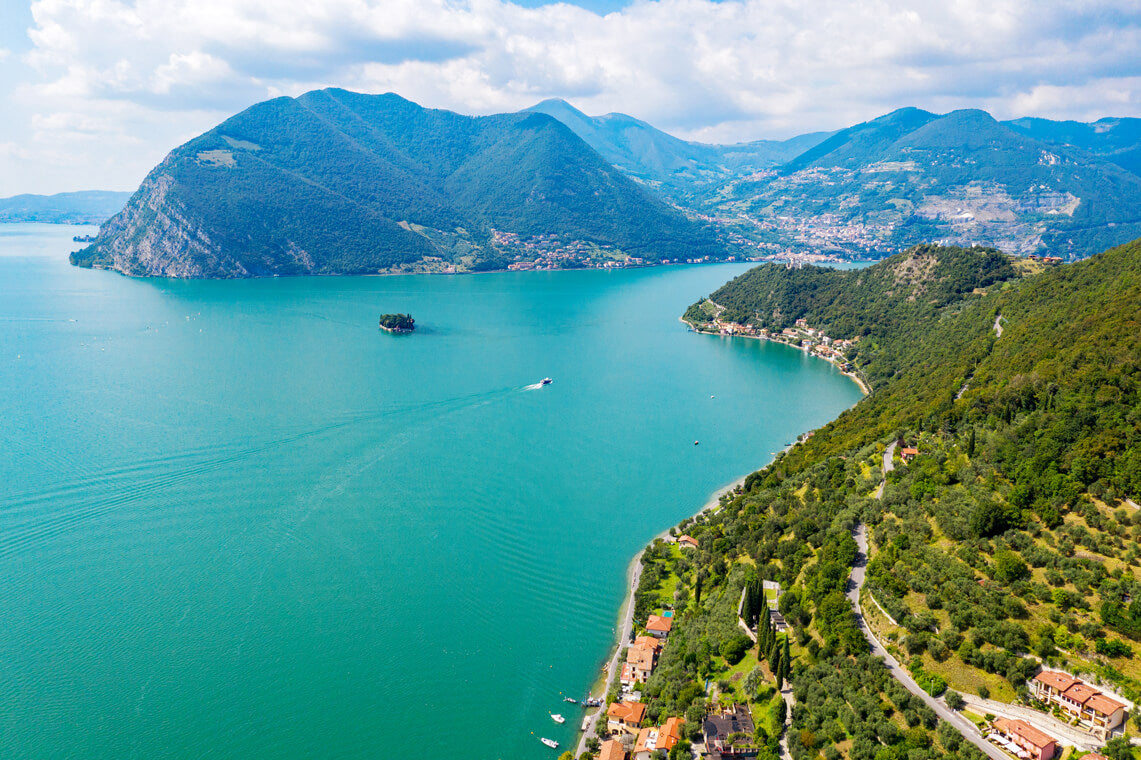 #YESWEEKEND 09: Monte Isola and Iseo, on the lake between walks and good food
A 'double' that will give you a lot of satisfaction: if you want to spend a weekend full of stimuli, things to see (and to eat!), Lake Iseo awaits you!
Are you looking for a place for the weekend that offers trekking and walks, food and wine pleasures and special experiences to live?
Try this 'lacustrine' brace : Mount Island And Iseo . Have you ever been there?
Let's start from Mount Island or Mont'Isola, as the locals call it. It's part of the 'most beautiful villages in Italy' and it is a small island that can be reached by ferry, which you can take from various locations on the lake here you will find all the info .
Since you can't get around by car, everyone hires cars bicycles , experimenting with the various itineraries (excellent reason to do some sport, what do you think?).
In Monte Isola you will not be bored, because there is so much to see and do. Then, when you have filled up, you can move to Iseo , another place worth visiting and which is part of the famous wine-growing area of ​​Franciacorta.
Ready to mark everything? Street!
Since it's summer and the road is long, don't forget a hat to protect your head from the sun and… hydration of your hair with our Solemar line , do we understand each other? 😊
Where to sleep
Castello Oldofredi : a historic building in full Renaissance style among centuries-old olive trees overlooking the town of Peschiera Maraglio, an ancient fishing village at the time. With a short walk through the narrow alleys you reach the sunny terrace of the residence, from which you can enjoy an incomparable view (before diving into the panoramic swimming pool!).
B&B VillArzilla : we love this name! It's a b&b
obtained from an early twentieth century house, renovated with biocompatible and eco-sustainable natural materials. A really nice little place with excellent breakfasts prepared exclusively with organic products. There are only two rooms: Beauty and Harmony. They sound good, don't they?
Once Upon a Time : This is a really cool project, created by Romina Rinaldi which, after traveling all over the world, he decided
to set up a development cooperation activity with an NGO in Brescia. Romina has decided to renovate her grandparents' old house and open up a Lombard guesthouse/B&B with 4 bedrooms for up to 8/10 people. We also organize small workshops: photographic walks around Monte Isola, yoga, meditation, massages, use of essential oils, excursions and tastings at local farms and much more.
Hotel Araba Fenice a very chic place with a wonderful panoramic swimming pool overlooking the lake. It is a historic residence which experienced its maximum splendor in the 1920s/30s. It is rumored that a secret meeting between Mussolini and Winston Churchill had taken place in the Hotel Hall…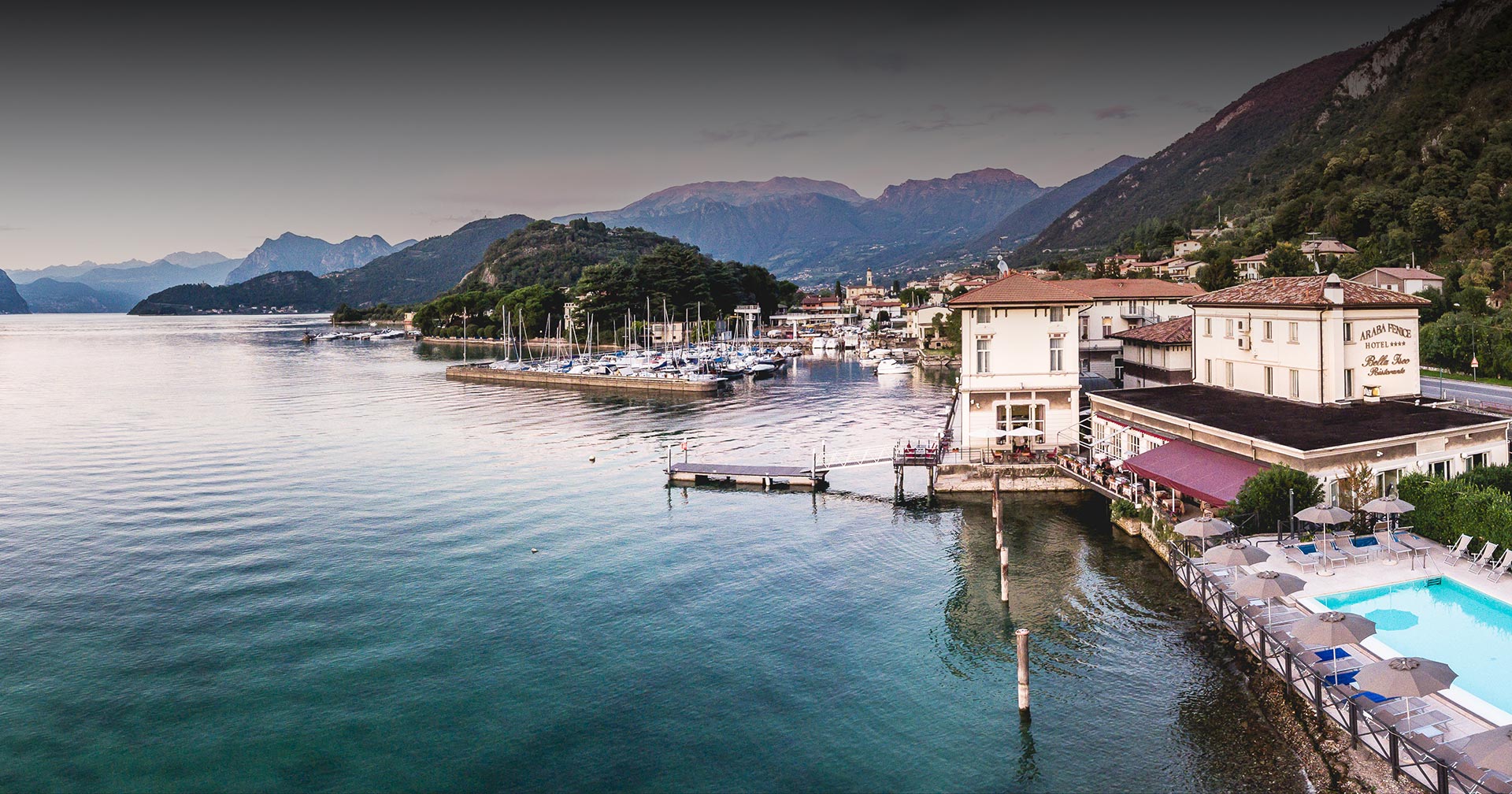 Where to eat
Trattoria Glisenti : lake fish and natural cuisine are the musts of the place, as are the freshness of the products and the methods of cultivation and breeding to bring zero km dishes to the table. The splendid internal room has direct access to the terrace overlooking the lake, a true corner of paradise!
Osteria il Volto : open since the 1980s, it immediately became the meeting point for the people of the town who stopped to drink a good glass of wine or have an aperitif. The wines are mainly served by the glass and are chosen from the list written on the blackboard. There are wines from Franciacorta, but also the great national oenology and even some foreign wines. You eat the traditional dishes of Brescian and lake cuisine such as perch fillets, baked shin with polenta and the well-known Casoncelli alla Bresciana (the 'casonsei', if you want to learn the dialect!).
What to do
Trekking to the Madonna della Ceriola: The Madonna della Ceriola can be reached on foot and is a magnificent panoramic point from which you can see the whole of Lake Iseo. There are two routes, one for experts (Peschiera Maraglio – Olzano – Masse – Cure – Sanctuary of the Madonna della Ceriola) and a simpler one (Peschiera Maraglio – Cure – Sanctuary of the Madonna della Ceriola). The paths cross chestnut woods and olive groves and some roads are old mule tracks. A wonder of nature!
Go through the Torbiere del Sebino : they are historic peat bogs with two recommended itineraries. There is a beautiful natural park with many animals to spot and where to stop for a sunbath (don't forget to protect your hair with Solemar!)
Enjoy the Onde Musicali Festival on Lake Iseo :
until 11 September, over 60 concerts in 17 Municipalities. You will be spoiled for choice: classical, opera, symphonic, chamber, ancient, crossover and jazz music. To go back to listening to live music!
Good things to buy
Ribola Extra Virgin Olive Oil : in Monte Isola there are many olive groves and, in 2019, Ribola oil obtained the three leaves in the Gambero Rosso guide of Italian oils. Among the ones we like the most are the Nepos, with hints of aromatic herbs, wild flowers and lettuce and Avus , with hints of freshly cut herbs and notes of medicinal herbs with a hint of mint and basil.
Salumificio Monte Isola : if you are passionate about cured meats, this is the place for you. Salame di Monte Isola is by far the flagship of the Salumificio: the secret lies in its processing and in the selection of the best meats.
Pescheria Montisola : the Soardi family has been involved in freshwater fishing for four generations. The fulcrum of the activity is precisely in Monte Isola, where the fish processing laboratory is located. Three years ago the family made a personal commitment to ensure that the dried sardine from Lake Iseo became one of the slow food principals. To try! 😊